Wednesday, May 19th, 2010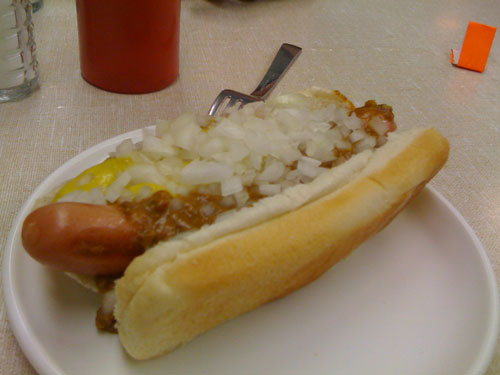 In Detroit, hot dogs with chili, raw onions and mustard are called Coney Islands or Coneys. This concept is brought to its late night perfection at Lafeyette Coney Island in Downtown Detroit. Their chili is more of a secret sauce than a chili. Its unusually tasty and it complements the mustard, onions and dog perfectly. Perhaps even better than the Coney Island is an item i have never heard of — the "Loose Burger".  The somewhat off-putting name fits the item pretty well; it's basically loose hamburger meat on a hot dog bun with mustard, onions and chili. The pattern here is clear; its all in the chili, mustard and onions. This spot is definitely in my top 10 late night food excursions.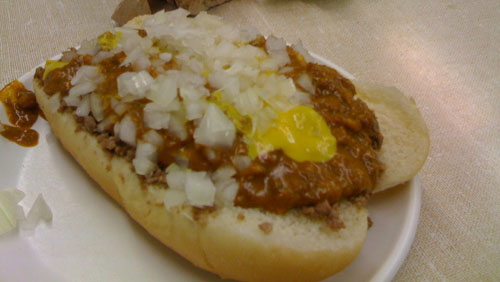 For a slightly more refined experience, try O'Betty's Red Hot Dogs and Sausages. Its based in Athen's Ohio but I visited their stand at the Nelsonville music festival. They were out of brats so I got the Dixie, which is a spicy hot dog with onions, mustard, cheese, and chili. The Lafayette Coney Island wins on overall experience, but this dog is nothing to be passed up. Next time, however, I'm getting a brat.