Thursday, July 10th, 2008
Going to Greece is truly a momentous culinary experience for me. The Greeks are all about simple and fresh food–and what's better than that? A typical Greek breakfast is spanakopita, which is commonly referred to in the states as spinach pie.  It's a pie made from flakey phyllo dough stuffed with spinach and some cheese.
Having it fresh from the bakery in Athens is a dream come true. It is light, crispy and tasty. I skip lunch due to a late breakfast but I have a late afternoon drink of ouzo, which is an anise-based liquer. It's a clear liquid, but when mixed with water and ice, it gets white and cloudy. They drink a lot of this stuff in Greece and its damn good. Moving on to dinner, we go to a taverna where they serve lamb chops by the kilo. There are many tavernas around and they typically have outdoor seating and are very crowded late into the night. We order kilos upon kilos of delicious lamps chops and some Greek salad. I think they call it a famer's salad or a peasant salad or something like that. It is basically chopped up tomatoes, pepers and onions, with and big hunk of feta cheese sitting on top. It's dressed with loads of olive oil and oregeno and then consumed. This is the best thing ever. I think I could eat this everyday and be happy. All the ingredients are fresh and delicous. The chops are simply grilled over coals and served with lemon wedges. Tzatziki sauce, which is a yogurt cucumber sauce, is an optional topping.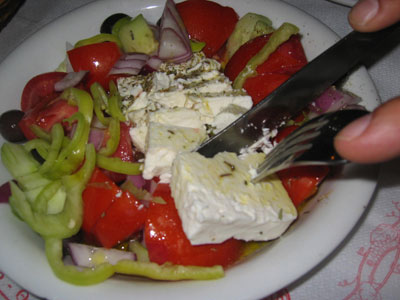 After dinner, we head down the winding streets of Athens and find ourselves at a dessert shop. We order an array of Greek desserts with ice cream. The only dessert name I remember is Baklava, but there are many similar desserts on the massive plates that are presented to us. The ice cream is very unusual as it is flavored with the sap from some local tree.  Below is a picture of the ladies serving us dessert. Notice the huge mounds of ice cream…