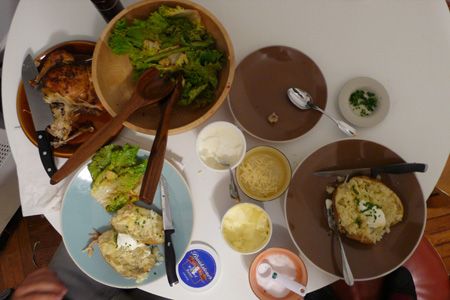 I have many favorite culinary creations from the Midwestern region of the USA, but there is one in particular I'd like to share on Homer's behalf, and in honor of its original creator: my Grandma Betty. This delicious dish is the baked potato.
Tomorrow is Grandma Betty's 76th birthday, and after many, many years of cooking for eight (4 boys, 4 girls) children, and now their own children, she is still going strong in the kitchen. Among many delights, she makes the best baked potato. This potato satisfies the most hearty of Minnesotan appetites: my Grandpa Phil, who has never met a carbohydrate he didn't like, and consequently eat.
Homer and I re-created this trademark spud tonight with great success; here is the result:
Yum. When baking a potato, Homer says it must be known that during baking "if you don't fork it, it might explode." So spear it with a fork before popping it in the oven, for Pete's sake.
It also must be said that what makes a baked potato different from a french fry (besides the baking and frying) is the garnish (garnishes, garnishi?) I think I can speak for Betty and Homer when I say they make up about 50-75% of the delectibility. Of course you can improvise, but these are our top choices:
1. Butter (as much as you want, and it provides the base flavor)
2. Cheddar cheese (again, as much as you want, but I would use caution, as the more distinct flavor might overpower the potato itself)
3. One dollop of sour cream
4. Chopped chives (these are crucial: they provide both a contrast in color and flavor to the aforementioned dairy products)
That's it. More to come on the Midwestern interpretation of the salad.