This is Minnesota State Fair food and, as you can see from the various pictures, its function is to make you happy. Everything is either on a stick, deep fried, smothered in butter or all of the above. The chefs here have truly have mastered the art of greasy food. The variety of food choices is actually quite surprising; it's not just sausages and funnel cakes. They offer such oddities here as teriyaki ostrich on a stick and chocolate covered bacon on a stick.
I sample as much as much stomach can handle. The dap-kings walk around in a group — each person buying one thing and then bringing it back to the group to share. We start with cheese fries topped with bacon and chives. The curly fries are perfectly prepared and the toppings make it a great starter.
I move on to what i consider the best item at the fair: deep fried cheese curds. These are similar in flavor to mozzarella sticks but they are super fresh and perfectly crisp. Most people dip them in some ketchup and that is definitely a winning combo.
From there i move on to a pronto pup which is a corn dog made with a flour batter rather than corn batter. The pronto pup is not too big, but i find it to be the perfect size. The dogs are freshly dipped in the flour batter, and i think this makes for one of the best dogs on a stick around.
We all share the pork chop on stick which is a very popular item out here.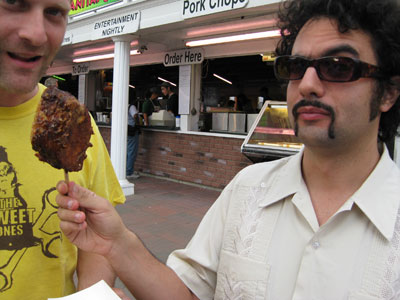 Deep fried pickle slices with ranch dressing is a good side order
Before we hit dessert, we all have to chow down on some delicious Minnesota sweet corn dipped in butter. Unstoppable.
Everyone tries their own desserts. Some go for the candy apple, while others eat the frozen key lime pie slice dipped in chocolate on a stick.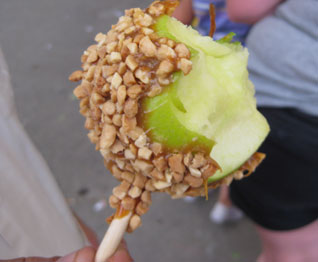 But I go for the true heart stopper: the deep fried twinkie on a stick. This item is simply wrong. It is, however, pretty damn good.
All in all. This was truly an inspiring food day for me. I am definitely going to try to come back to the Minnesota state fair next year.